Standard seed mixtures 2022
Available now!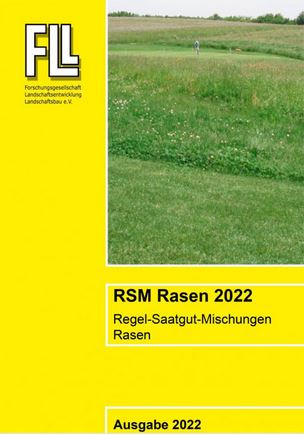 For professionals: the regular seed mixtures (RSM) 2022
Stay up to date!
The new edition of the RSM 2022 brochure was published by the Landscape Development and Landscaping Research Society (FLL). In time for the start of the gardening season, professionals and keen gardeners can use the updated guide to choose the right seed mixture for their lawns. It has been published since 1978 and is revised annually.
What's new?
Section 1 – General notes a) Clarification of the use of the term "regular seed mixtures (RSM)" for seed mixtures;
Adaptation of the information on care requirements and/or resilience to the nomenclature of the descriptive list of varieties of lawn grasses of the German Federal Plant Variety Office.

This affects RSM 1.1, 2.3, 2.4, 3.1, 3.2, 5.1 and RSM 7;
RSM 6.1: Addition of the species Plantago lanceolata and Sanguisorba minor, reduction of the proportion of Petrorhagia saxifraga and inclusion of a margin;
Revision of Chapter V: Trade requirements;
Exclusion of Chapter VII: Plants for underplanting and catch crops;
Attachment: Inclusion of information on the insect-friendliness of the mixtures that include herbs.
Information on the insect-friendliness of landscape lawns with herbs.
Overview of the varieties to be used for the standard seed mixtures. The latest test results were also taken into account here, so that breeding advances can be put into practice as quickly as possible.
(Source: Deutsche Rasengesellschaft; www.rasengesellschaft.de/newsreader/regel-saatgut-mischungen-rasen-rsm-2022-erschienen.html)
Where can I get it?
In the online shop of the Landscape Development and Landscaping Research Society (FLL).